Reflecting on the Past to Build a Better Future, Ep #185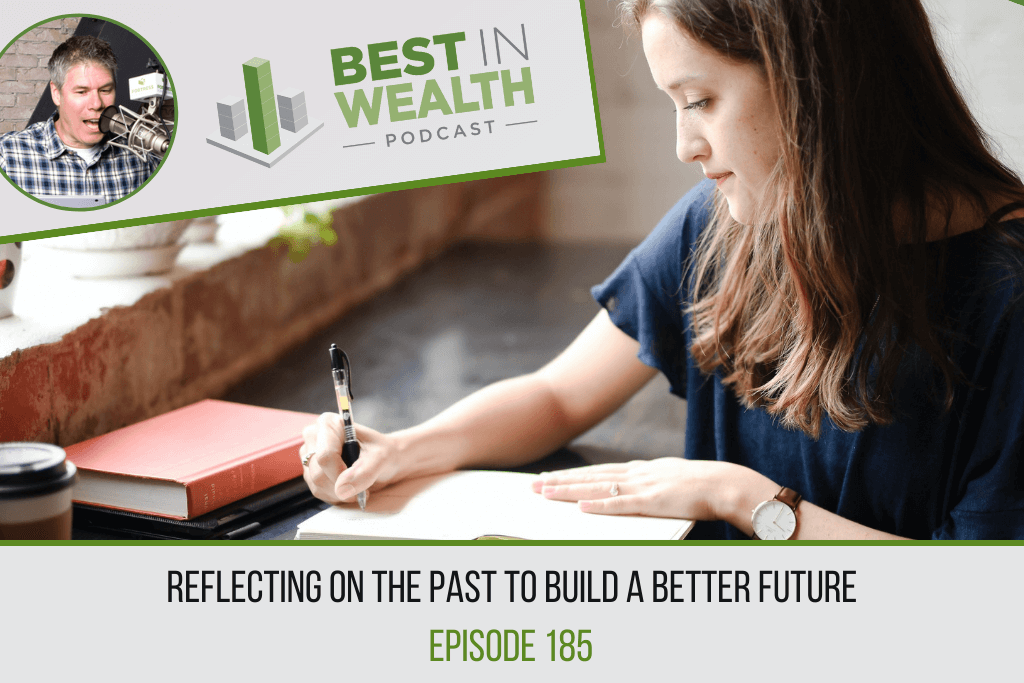 This last year, when the COVID lockdowns happened, I took advantage of the space in my schedule to get started on a physical fitness routine, and I tell you, I made some great progress. It was a decision that benefited me in multiple ways and made me feel better overall. But once the pandemic restrictions lessened, I slacked on my new habit. It was a choice I made, but it was fueled by a handful of lies that I was telling myself, things like, "I do not have the time anymore" or "It is not that important." The reality is that my fitness routine was one of the best things I was doing for my health and overall productivity and success.
I did not come to this realization until I took time to reflect on the past year. When I did, it all came into focus and I found an area in my life where I can make a change that improves my life going forward. Taking the time to reflect is powerful. This episode is aimed at giving you the tools you need to use the power of reflection in beneficial ways in your life.
CHALLENGE: Do you regularly reflect on the past to build a better future? Listen to this episode of #BestInWealth for a guided self-assessment tour! #investing #PersonalGrowth #retirement #PersonalFinance
Click To Tweet
Outline of This Episode
What is reflection? [1:29]
Studies that show the importance and benefits of reflection [9:10]
Questions to help you reflect on the last year [11:32]
What IS reflection?
If we are going to take the time to reflect, we should start out with a clear definition of what we mean.
REFLECT: Serious thought or consideration
This kind of consideration can be focused on anything — your day, your week, the last year (what we will be doing), recent events, or serious situations or truths. There is honestly no limit to what you can spend time reflecting upon.
In this episode, what I am encouraging you to do is to come with me on a guided process of reflection on what took place in the past year (2021). If we are going to take our role as Family Stewards seriously, then reflection is essential. Why? Let us just recap the situation we all went through this past year: When COVID hit, we were all busy with the activities and responsibilities of life. But the pandemic slowed our pace of life, in some cases to a crawl. We had the opportunity to sit with family at dinner, to have deeper and longer conversations, to reflect on things in ways we truly needed. But now that life has picked up its pace once again, we have pushed some or many of those things out of our lives again, to our detriment. A time of intentional reflection is going to serve all of us well if we wish to keep the benefits of the things we learned in the past year.
What IS reflection and why is it so beneficial? Listen to this episode to hear what recent studies say about the benefits and power of personal reflection. #BestInWealth #investing #PersonalGrowth #retirement #PersonalFinance
Click To Tweet
QUESTION: Was 2021 mostly a good year or mostly a bad year?
When we answer questions like this our minds take a very natural and expected turn. We recall one or two major life events and whether or not those were positive or negative, we make our assessment of the entire year. So, for example…
Did you get married in 2021?
Following the advice outline on this podcast, did you get out of debt?
Did you buy or moved into a new home?
Did you start a new career or job?
Those are all exciting things, so if you experienced them in the last year you may feel your year was a good one. But what if you…
lost your home or your job?
Experienced the death of a loved one?
Endured a health crisis?
If those types of things characterized your 2021, you may say it was a bad year.
But here is the point: Good or bad, there are many lessons that can be learned from the things we experienced. Circumstances, mistakes, etc. can be used to our benefit if we take the time to reflect on them and glean the lessons they have to teach us. Our mind has the ability to view circumstances as opportunities or obstacles, it is our choice. As we make changes based on the lessons we learn from 2021, we can make 2022 a great year.
QUESTION: How did you grow as a person?
This is one of my favorite reflection questions to ask myself. Why? Because it forces me to take a long hard look at myself and to make an assessment of the kind of person I am day to day. This is so helpful when it comes to making improvements in my life. So, ask yourself, compared to the previous year, how did you improve your character or personality traits in 2021? Use what you find as indicators of areas where you can make improvements to continue growing. If we all did this, the world would be a different (better) place. But it can only start with you and with me. We have to make the decision to reflect and then to take action based on our reflection.
I highlight a handful more questions in the episode, so be sure to listen!
QUESTION: How did you grow as a person in 2021? It's time for some self-evaluation and changes! Listen to this episode of #BestInWealth for a guided self-assessment tour! #investing #PersonalGrowth #retirement #PersonalFinance
Click To Tweet
Resources Mentioned
Connect With Scott Wellens
Audio Production and Show notes by
PODCAST FAST TRACK
https://www.podcastfasttrack.com
Podcast Disclaimer:
The Best In Wealth Podcast is hosted by Scott Wellens. Scott Wellens is the principal at Fortress Planning Group. Fortress Planning Group is a registered investment advisory firm regulated by the Securities Act of Wisconsin in accordance and compliance with securities laws and regulations. Fortress Planning Group does not render or offer to render personalized investment or tax advice through the Best In Wealth Podcast. The information provided is for informational purposes only and does not constitute financial, tax, investment or legal advice.