The 4 Pillars of the "New" Definition of Retirement, Ep #174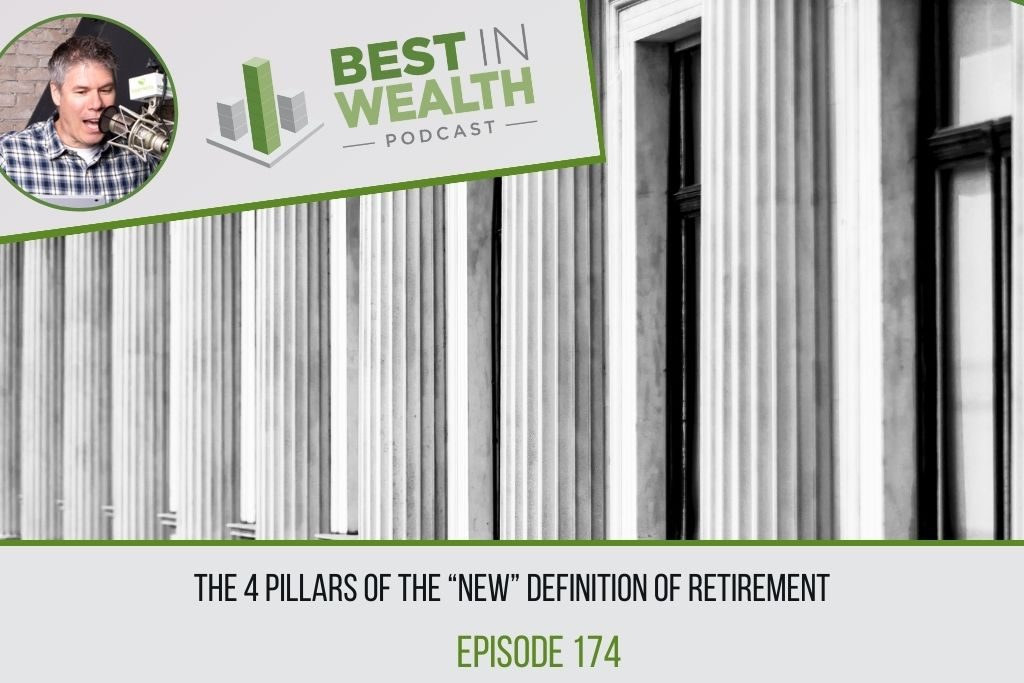 Edward Jones recently completed a large study on the 4 pillars of the "new" retirement. So in this episode of Best in Wealth, I am going to talk about some of the topics covered in this study: changing times, the definition of the new retirement, the definition of success, and the 4 pillars. Don't miss it!
Outline of This Episode
[1:37] How do you feel about change?
[4:08] The speed of change is accelerating
[8:13] The definition of the new retirement
[14:00] The definition of success
[18:56] The 4 Pillars of the New Retirement
The speed of change is accelerating
Retirement has completely changed over the last 10–50 years. People used to work until 65, retired, and did not live much longer. People lived on pensions and social security. 401k's were not in existence. Now, people are living longer than ever (the average life expectancy is projected to skyrocket from 47 at the start of the 20th century to 85 by 2020).
The aging of the massive Boomer generation is unprecedented. 86 million people will be over the age of 65 in 2050. People are also less prepared for retirement than ever before. Of people ages 45–54, 42% do not have any retirement savings. The median retirement balance is only $100,000. Retirement was already transforming before COVID-19, the pandemic disrupted retirement as we know it.
The definition of the new retirement
56% percent of people think that the definition of "New Retirement" is a new chapter in life. I am a positive guy and I think this is a great way to think about retirement years. 28% think it is a time for rest and relaxation. But I think this is missing the mark. You cannot just wake up and watch Netflix all-day-every-day. That will not create meaning in your life. You want to build a routine with purpose.
9% believe retirement will be a continuation of what life was. Some people do not want to leave their job or career because it brings fulfillment to their life. Others believe retirement is a continuation because they cannot afford to retire. 7% of people called new retirement the beginning of the end. I hope anyone listening to this podcast does not feel this way.
That is why you need to start planning your new chapter right now.
The definition of a successful retirement
This study also covered what people thought the definition of success was, defined per age group. So they asked Millennials, Gen Z, Gen X, Baby Boomers, and The Silent Generation the same questions about their definition of success: Is it achieving wealth? A career that you are proud of? A positive impact on family and others? Or being happy with who you are and what you do?
A lot of people define success early in life but it evolves and changes as they get older. 26% of Gen Z, 13% of Millennials, 6% of Gen X, 4% of Boomers, and 3% of The Silent Generation believe that success is achieving wealth.
What about having a career that you are proud of? 18% of Gen Z, 19% of Millennials, 9% of Gen X, 7% of Boomers, and 11% of The Silent Generation believe that success is having a career that you are proud of. The older people get, the less important it becomes.
What about having a positive impact on family and others? What about being happy? Listen to this episode to hear where these landed on the spectrum!
The 4 Pillars of the New Retirement
I talk often about building abundance in the four cornerstones. Money is only one facet that fuels the other things. According to the Edward Jones study, their four pillars are:
Health: A longer lifespan and more years in retirement is the future. The most feared condition in America is Alzheimer's and other forms of dementia. 90% of Americans older than 50 believe that the definition of "health" is being able to do the things that you want to do.
Family: According to this study, family is the greatest source of satisfaction, support, and purpose. But adults 50+ do not want to become a burden on their families. They are willing to offer financial support to their family even if it impacts their financial future. 72% of retirees fear being a burden to their families.
Purpose: Retirees say their greatest source of purpose comes from spending time with loved ones. They value learning and growing in their new chapter. Sadly, one in three retirees struggles to find purpose in retirement. They do not realize they can use their talents and knowledge for the benefit of others.
Finances: The role of money in retirement is to provide security and freedom. Over half of retirees wish they had budgeted more for unexpected expenses. The cost of healthcare worries them more than a recession. ⅔ of American's who plan to retire say they have no idea what their health and long-term care costs will be in retirement.
These are all reasons why you must plan now for the next chapter of your life. Learn more about this topic by listening to the whole episode!
Resources Mentioned
Connect With Scott Wellens
Audio Production and Show notes by
PODCAST FAST TRACK
https://www.podcastfasttrack.com
Podcast Disclaimer:
The Best In Wealth Podcast is hosted by Scott Wellens. Scott Wellens is the principal at Fortress Planning Group. Fortress Planning Group is a registered investment advisory firm regulated by the Securities Act of Wisconsin in accordance and compliance with securities laws and regulations. Fortress Planning Group does not render or offer to render personalized investment or tax advice through the Best In Wealth Podcast. The information provided is for informational purposes only and does not constitute financial, tax, investment or legal advice.